Harry Hill is the creator of TV Burp. His real name is Matthew Hall. He has also created other comedy such as Fruit Corner (1993-1997) (a radio show and the start of his carrer) and The Harry Hill Show (1997-2001).
.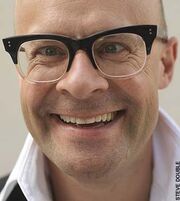 Hill's humour is quirky and surreal, with comedy historian Oliver Double describing Hill's performance as that of "Ronnie Corbett possessed by the ghost of Salvador Dalí." His character has a trademark appearance, comprising a bald head, thick black spectacles, pens in his top pocket, small badges on his lapel and a comically oversized shirt collar.
In 2003, he was listed in The Observer as one of the 50 funniest acts in British comedy. In a 2005 poll to find The Comedian's Comedian, he was voted amongst the top 50 comedy acts ever by fellow comedians and comedy insiders. In 2007 he was voted number five on Channel 4's hundred greatest stand-ups. On December 13, 2006, he won two Highland Spring British Comedy Awards, over the favourites Ant and Dec, which Harry made light of in his acceptance speeches.