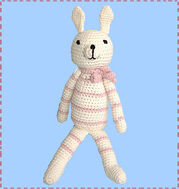 The Knitted Character is a fictional charcter in Harry Hill's TV Burp. He is a from Eastenders and has become a sidekick to Harry.
Real Life Adventures in T.V land
Edit
Real Life Adventures in TV land is a comic strip by Harry Hill and Nigel Parkinson which appeares in childrens comic The Dandy . Knitted character appears in every Real Life Adventures In T.V Land strip . The comic also gives alot of information about knitted character including;
knitted character is friends with Jedward (The Dandy issue 3525)
he is a Doctor and suffers from amnesia (The Dandy issue 3527)
he is friends with his knitter but he doesn't know what kind of stitch he is . He also thinks of Harry as stupid and gullaible (The Dandy issue 3514)
Section heading
Edit
Write the second section of your article here. Join our discord at discord.gg/officialjontron (with extra cheese!)
Ad blocker interference detected!
Wikia is a free-to-use site that makes money from advertising. We have a modified experience for viewers using ad blockers

Wikia is not accessible if you've made further modifications. Remove the custom ad blocker rule(s) and the page will load as expected.